As you may know, recently, we switched our porcelain producers in an effort to keep our cups even more durable & resistant.
After careful consideration of quality, durability, looks and costs (for you & for us) we made the decision to switch from our ordinary porcelain to
TRADITIONAL BONE CHINA PORCELAIN
as the material for our Big Cups.
HERE ARE THE MAIN DIFFERENCES:
Porcelain
Heavier
Porcelain cups are thicker, which makes them heavier in weight.
Stark white
The colour of Porcelain cups is bright, stark white, almost grey-white and is cooler in temperature.
Strong
Our Porcelain cups are very strong and do not break easily. They are made for dishwasher and microwave use.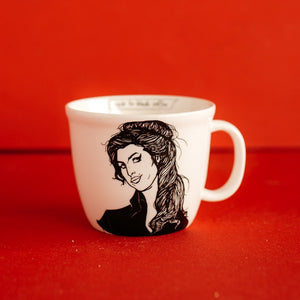 Bone China
Lighter
Bone china cups are thinner than Porcelain, which means they are also quite lighter to hold. Also, due to the material not being as thick, they are less prone to breaking.
Golden white
The new color of our cups is golden white, the so-called bone shade. The color is warmer in temperature.
Very strong
Bone China has the greatest strength and resilience of all ceramic materials. Still dishwasher and microwave-safe. We still don't recommend throwing them at the wall, but it's close!
Our new Bone China material does not contain real bone or any animal content.
When the stock runs out, we will exclusively ship Bone China Big Cups.
YAY!